Dog Grooming
A complete grooming experience with all the creature comforts of home. Friendly and comfortable surroundings, with the opportunity for your pet to socialise, play and relax. Located in Bulleen, just 15 minutes from the CBD.
Relaxed No Rush Service
Dog washing
Dog grooming
Dog clipping
Stress free and cage free environment
Flexible drop off and pick up times
After hours and weekends available
Only non toxic & sulphite free products used
Any size, any age, long hair or short hair
A Better Grooming Experience
Going to the groomer can be an ordeal for your pooch and a hassle for you. At Love Your Pet we aim to ease the stress for both of you.
For you… easy parking and flexible pick up and drop off times – 7 days a week.
For your furry friend… a cage free environment so he can play and chill. Plus we take the time to build trust and ensure a positive grooming experience, returning your pet relaxed and gorgeous.
Yummy's dad thinks Love Your Pet's care and grooming is great!
Why Groom Me?
Less loose hair to get on your clothes and furniture.
Keeps fleas and parasites off me.
Brushing massages my skin and promotes good coat condition.
Clipping gives me relief from heat and makes brushing easier.
Good hygiene to keep my messy areas clean.
It gives you a chance to monitor my health.
It helps keep knots and matts at bay so there is no pulling and tugging on my skin when I move.
I will look and feel great.
I will smell fresh and clean for lots & lots of hugs.
There are a variety of combs and brushes you can use, depending on your dog's coat. Check out our Pet Parenting page or Call Us for advice.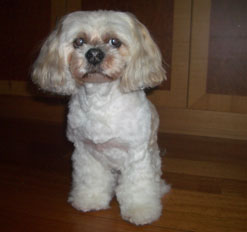 Why not have your pet expertly groomed/clipped in your absence so that picking them up is sheer bliss with no additional chores or appointments on your return.